Dear Reader,When I told my wife about this… she reacted quite predictably, asking me…
"Are you out of your mind?!"
I guess I shouldn't be surprised… considering she quit her six-figure job just 18 months ago to stay at home and take care of our two kids…
Leaving me as the sole breadwinner…
But as crazy as she may think I am… I'm going ahead with my plan.
One thing I want to make clear: I love my wife and I would NEVER do anything to jeopardize my family's well-being. But I don't believe I'm truly risking anything.
In short, I'm betting my personal paycheck… and perhaps my career… on what I believe is the best investing opportunity I've seen in my 20 years in the markets.
You see…
I've discovered a business with so much upside potential…
That I want to sound the alarms for everyone to hear.
When you see the evidence, you'll understand why I'm so confident…
It's a business that just picked up seven different revenue streams that could be worth over $300 million each… It recently received favored legal status that gives it a monopoly for more than seven years…
It's sitting on a mountain of cash ($1.28 billion) and has ZERO debt.
I calculate revenues are set to jump as much as 5,534%.
And beyond all that, the company is in control of what is perhaps the biggest development in medical history.
Dr. Phillip A. Sharp, Nobel Prize-winning MIT biologist and "Senior Statesman" of biotechnology, called the initial discovery of the technological breakthrough being utilized by this company "the most important and exciting breakthrough of the last decade, perhaps multiple decades."
This thing is so good…
I'm going all-in, betting my entire year's paycheck that it will give you the chance to – at minimum – double your money in the next 12 months, starting TODAY.
That's not to say it couldn't go up three, four, even seven times its current value.
But this is my livelihood we're talking about here, so I'm keeping it a guaranteed double!
Before I give you the full details, a little background…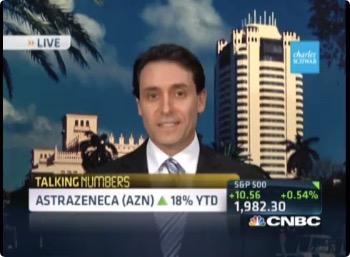 My name is Marc Lichtenfeld.
I am one of the select few financial analysts who have had series 7, 63, 86 and 87 NASD licenses…
I've been a senior columnist for a major publication that attracted more monthly views than The Wall Street Journal.
My specialty is biotechnology stocks.
And today, I'm the biotech expert here at The Oxford Club.
Twelve years ago, I became fascinated with the mind-blowing expansion of technology in the biotech field…
Robots performing the work of surgeons…
Tantalizing yet controversial stem cell research promising treatments and cures for AIDS, Alzheimer's and Lou Gehrig's disease…
And human genome sequencing potentially eliminating Huntington's disease and cystic fibrosis…
It was amazing to me, the advances that were being made… ones that would help people live much longer and healthier lives.
As an investment analyst, it was easy to see that biotech was going to be the wave of the future…
And I needed to get in on the ground floor.
So I started digging into everything I could get my hands on.
I quickly landed private, reserved seating for the annual J.P. Morgan Healthcare Conference – considered by many to be the Super Bowl of investing conferences.
I started meeting with CEOs, scientists, investment bankers, hedge fund managers and other industry execs…
And I began meticulously digging through all the data… developing a set of signals that tells me when biotech stocks will take off.
These signals ended up leading me to what I see now – perhaps the greatest investment opportunity of my generation.
But before I got here, there were other successes…
Like Celldex.
Back in the fall of 2012, I obtained data on its new cancer treatment through a connection in the industry.
The survival rates it achieved in such an aggressive and difficult-to-treat glioblastoma cancer were simply incredible.
This was an entirely new field of immunotherapy… and Celldex was leading the way.
Now, up until this time, the stock had been "dead" for three straight years…

But look what happened after I made the recommendation to my readers on November 28, 2012: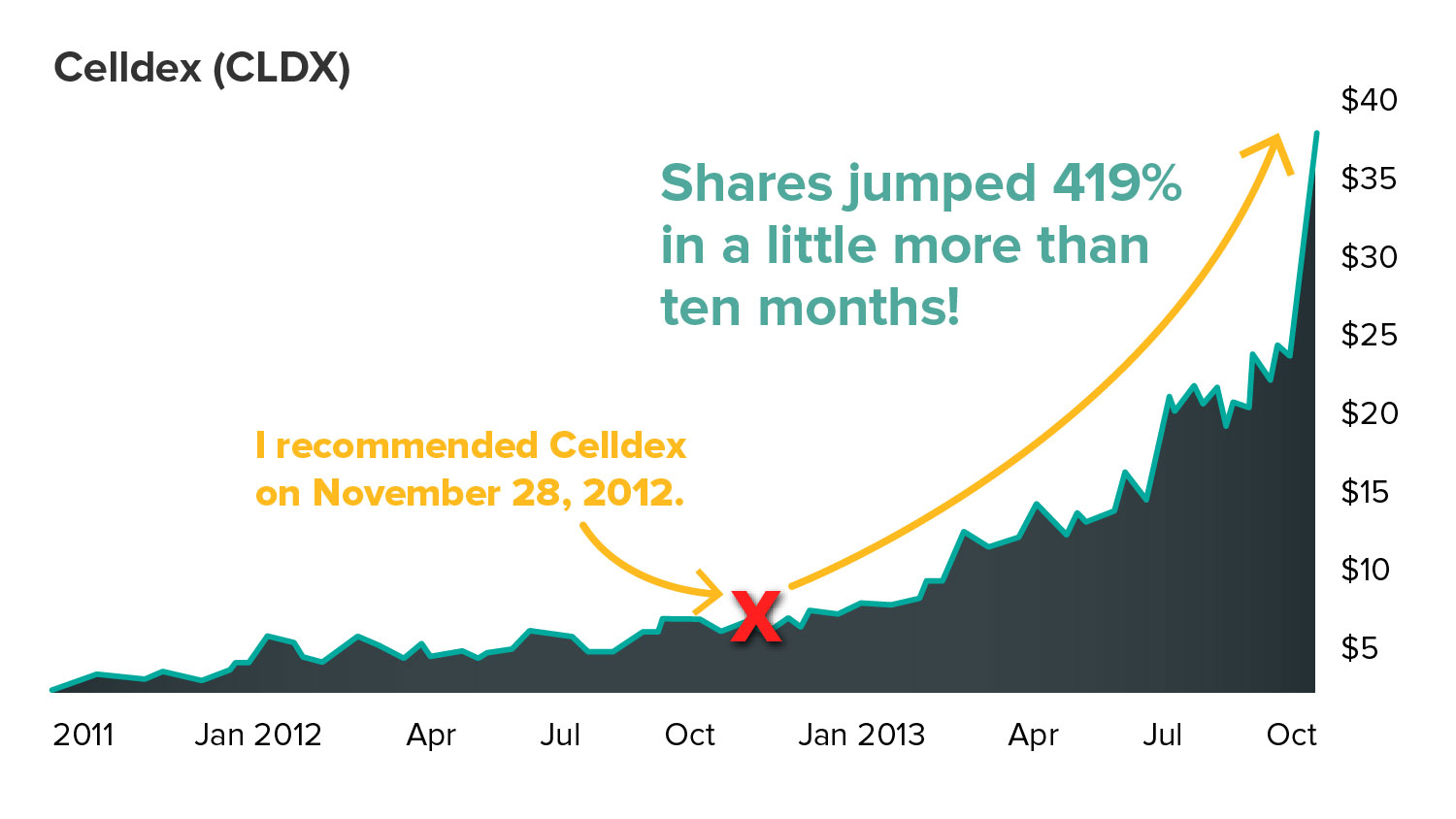 Like an electric charge from a defibrillator, it surged to life, jumping 419% in a little more than
10 months
.
It's important to note that we maximized our gains here, getting out of our position before the stock went back down.
Here's another example…
In 2014, I was tracking the latest developments of Auxilium Pharmaceuticals.
This company regularly hosts presentations at the annual J.P. Morgan Healthcare Conference. So I was well-versed on Auxilium.
It was on the verge of releasing the first new drug in years to treat ED in men.
There was evidence showing this product would be better than Viagra.
Auxilium clearly signaled it was a "Buy"!
So I pounded the table, urging my readers to get in.
Now, this wasn't a popular call… Auxilium's stock had been "treading water" for several years (just like Celldex).

But sure enough…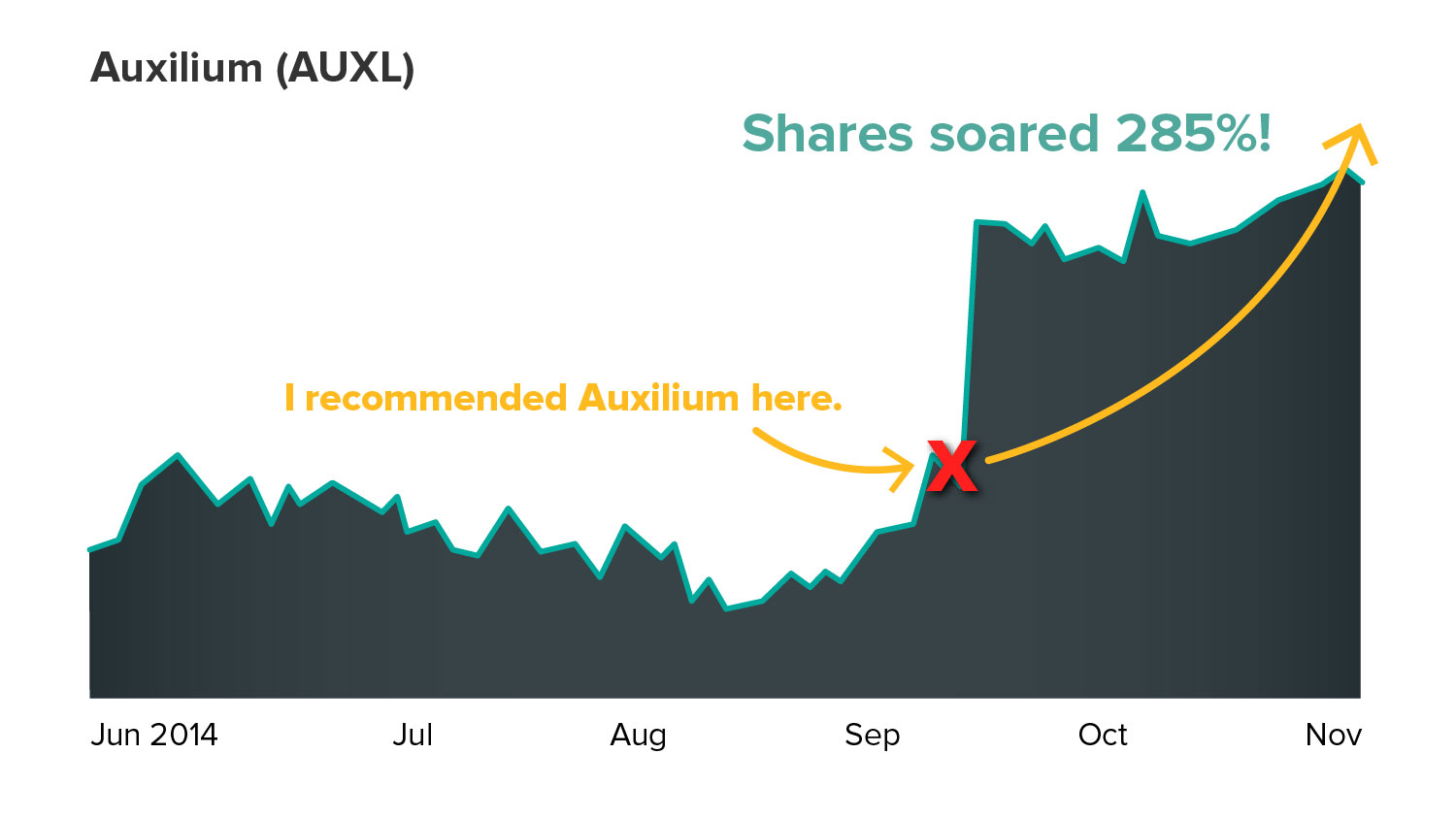 A jolt in the share price!
Investors were blown away by the lightning-fast gains…
"The detail in what you wrote today regarding Auxilium and how to trade it was awesome,"said Sally Hoiberg from Grand Rapids, Michigan. "Answered every possible question I had…Thank you so much."
"A great winner [285%]!" said Perry Thomas from Sacramento, California."Thanks for all your work."
"Marc, many thanks," said Paul Thompson from Northport, New York."Made 427%. No immediate spending plan, but I'll think of something.
"
Imagine that… 427% would hand you a $42,700 profit on every $10K invested…
Gains like these are great… They really are.
But they'll likely pale in comparison to the stock I want to share with you today.
I couldn't be more excited about this…
It's an opportunity that I've been monitoring closely for 10 YEARS.
It involves "a major scientific breakthrough that happens once every decade or so," according to Specialty Pharma Journal.
The highly advanced medical technology behind this company's therapies has won a Nobel Prize.
And it's expected to help cure some of the most difficult diseases in the medical field.
But here's what's going on that has me particularly excited.
The company recently received an extremely rare FDA designation for one of its breakthrough treatments (fewer than four have been given per year since the FDA was formed in 1906)…
A "special status" that hands it:
Seven years of market exclusivity
A potential monopoly on seven separate drugs valued up to $329.8 million each annually
And most importantly, a

fast track

toward global distribution.
As you'll soon see, this company's newest drugs could become the most lucrative of all time.
I'm looking at an inevitable revenue jump from just $41 million to $2.31 billion…
An increase of 5,534%…
Yet this little gem is a virtual unknown on Wall Street.
Which is mind-blowing…
The company is already in terrific shape… with $1.28 billion in cash and ZERO debt.
But with these new drugs about to come online, this could easily be the most monumental investing opportunity of this year… and beyond.
I've never said anything this radical in my 20 years in the markets.
This special situation required an urgent meeting with my publisher Julia Guth about how we NEED to get this research to everyone. And quick.
The fact is key events are quickly approaching that could send this stock doubling in the year ahead.
The first catalyst will occur any day between now and the end of the year, the second in early 2017.
I'm essentially guaranteeing you'll make money.
I'm so confident in this that I'm offering to WORK for FREE if you don't see the opportunity to at least double your money.
I've convinced my publisher to agree to these unique terms. We've never done this before.
But before I explain how to accept my offer, let me tell you why there's no better opportunity than this right now…
Burning Hot…
It starts with the market.
Right now, we're clearly seeing "stellar performance of biotech stocks," according to USA Today.
There's no other industry cranking out consistent, massive returns…
Since 2009, one popular biotech ETF has had returns that were up 500%, versus a gain of 200% for the S&P.
During a recent 15-month stretch, the Nasdaq Biotech Index nearly doubled.
Have a look at the comparison of all three major indexes: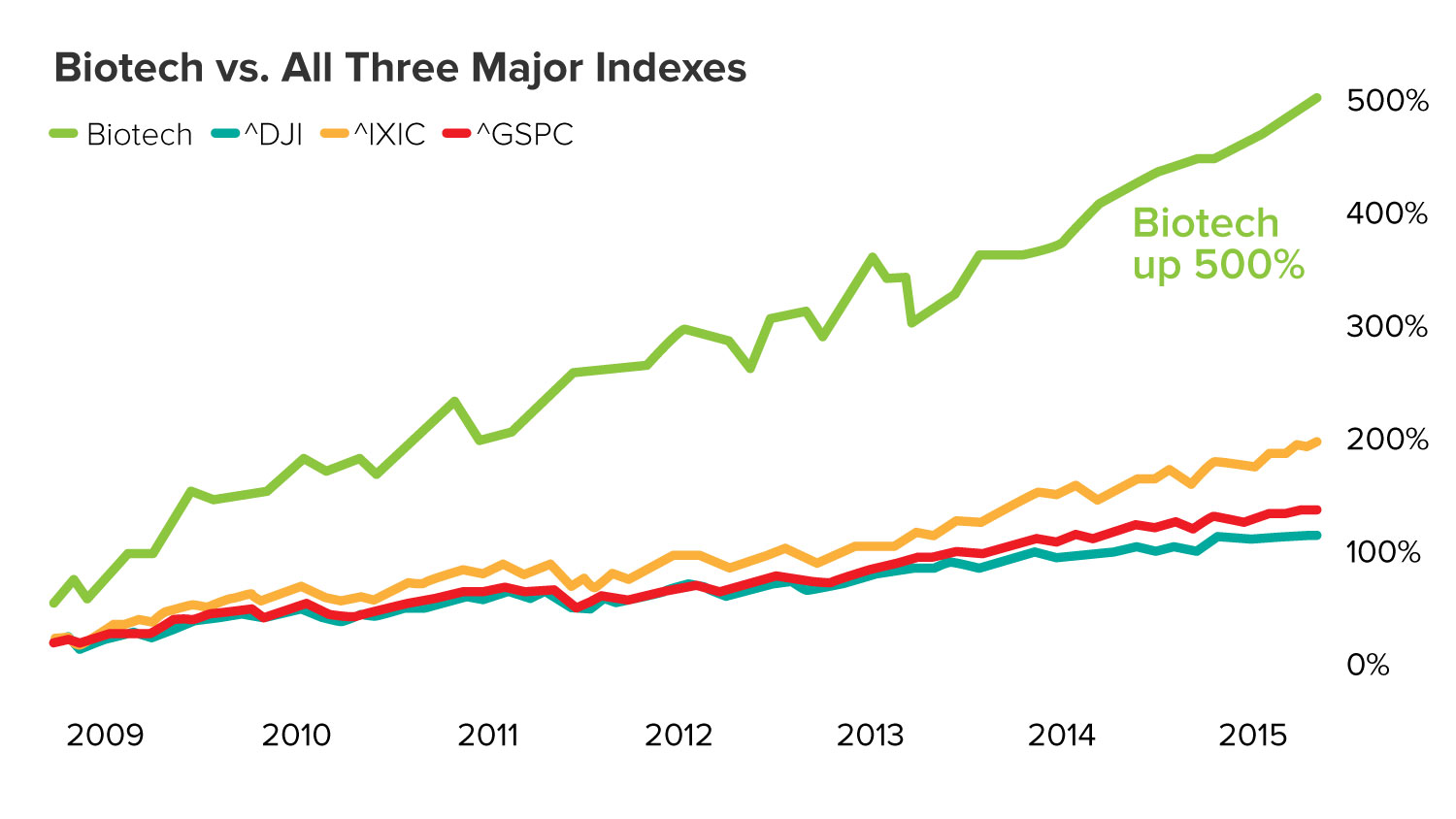 This sector is so scorching hot, in fact, that legendary investor Seth Klarman recently made more than
$1 BILLION in a single day on one biotech
.
That's worth repeating…
$1 BILLION.
One biotech investment.
One day.
Simply put… biotech isn't like any other sector.
The historic gains here from over the last decade can be gigantic… like the 11,000% gain on Medivation… or the 5,000% gain on Questcor… or the 3,900% gain on Illumina.
You see… unlike the rest of the stock market… biotechs don't move based on return on equity, P/E ratios or broad economic conditions.
And they generally don't steadily climb over many years.
Rather, biotech stocks tend to "spike" on particular events.
If you can spot these events beforehand, you can collect big wins like the 419% gain we experienced with Celldex.
And I've found that certain binary events are both highly predictable and profitable for investors who spot them first…
That's why I've pinpointed catalysts coming between now and the end of this year, as well as another in early 2017, as drivers that will launch today's opportunity higher.
In fact, for the past decade I've devoted my studies to pinpointing the precise events that inevitably drive biotech stocks higher.
That's why the companies I recommend are virtually predetermined to succeed.
I have led my readers to big gains as a result.
Such as…
329% on Onyx Pharmaceuticals. I spotted a sign that a takeover was imminent… Sure enough, Amgen purchased Onyx for $10.4 billion. One of my readers, Kate, said she "made $50 a share," more than quadrupling her money.
We also made 775% on NPS Pharmaceuticals, creator of Gattex, a blockbuster drug that generated millions in new revenue.
And 219% on Hologic Inc., a 3-D mammography company. At the annual J.P. Morgan Healthcare Conference last year, CEO Stephen MacMillan said his company far surpassed revenue expectations by $30 million… We got in right before its historic run… Take a look: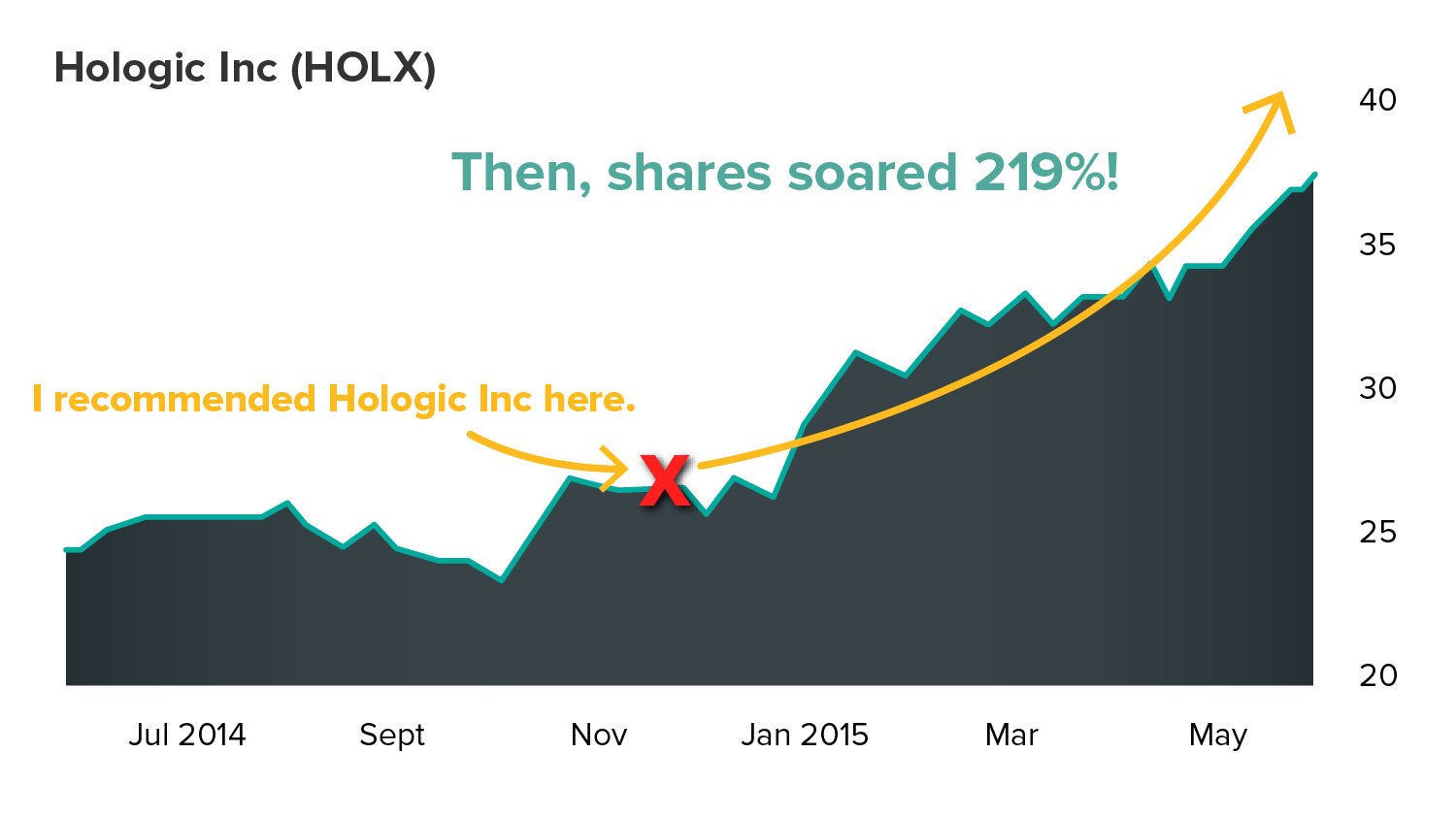 You'll notice Hologic was flat before my recommendation.
(This becomes a common theme.)
Then it shot to the moon… more than tripling my readers' money.
These are just a few examples, but the list goes on and on… and folks write to me nonstop about their experiences.
"Did great, made 392%… Marc, you are the MAN!" – Mike S.
"Great recommendation! Pocketed over $9K." – Paul C.
"Marc, I find your knowledge and guidance to be right 'on the money.' Many thanks." – Gwen B.
"I am delighted. Please keep more ideas coming." Joan F.
Well, Joan, here's my biggest and best idea yet. I'm finally able to make a recommendation on a company that I've tracked for the last 10 YEARS.
I fully expect it to make these other plays pale in comparison…
Here's why…
One Decade in the Making…
In order to understand the magnitude of this company and its groundbreaking technology, you'll want to know what makes this breakthrough so exciting…
Don't worry, this won't be some complicated biology lesson… Just give me a minute and you'll see it will be worth it.
As you know, genes dictate everything that goes on in our bodies. From the color of our eyes and size of our hands… to our lung capacity and intelligence levels.
You've probably heard your mother or grandmother say, "Oh, that runs in our family."
Sometimes it's a long lifespan. Or other times genes lead to negative consequences, like a family history of battling lung cancer.
Mutationsin our genetic code can lead to Alzheimer's, heart disease, stroke and all sorts of cancers. They can cause multiple sclerosis, Huntington's disease and cystic fibrosis.
And back in 2006, two brilliant researchers won the Nobel Prize for their work in controlling the activity of genes.
This duo found a way to silence specific genes… So if you were born with a gene that often leads to lung cancer, this technology could shut that gene down.
Say you're prone to liver disease… well, not anymore!
These scientists can actually "turn off" that gene so you can live a long life WITHOUT ever experiencing the disease.
I call this process "gene mutation silencing."
Or… GMS, for short.
Nobel Laureate Phillip Sharp calls it "the most important and exciting breakthrough of the last decade, perhaps multiple decades."
Here's why the GMS discovery was so important:
Infected genes inside the body essentially work like a contagious sick person on an airplane.
With everyone crowded together, other people will no doubt pick up the disease.
But what if everyone could have their own personal cabin and clean air system on a plane? (Wouldn't that be a dream?)
Nobody would catch the sick person's disease because it would not be transmittable.

That's essentially how GMS works.
It cuts the bad genes off and doesn't allow them to corrupt good cells.
This discovery has led to potential therapies for cancer, liver disease, HIV, hepatitis, influenza, Ebola, neurodegenerative diseases… and many, many more.
In fact, it doesn't just treat a few diseases. It has the potential to treat ALL diseases.
"Thanks to the incredible discovery… We should now be able to crack the problem [of any disease]," said noted geneticist Sir Paul Nurse.
Not only does GMS revolutionize biological research, but it also represents an explosive investment opportunity.
I said as much back when it first won the Nobel Prize in 2006.
On that day, I published this statement:
"If researchers are able to figure out how to turn off certain genes, the commercial potential is enormous."
"Everything from cancer to hair loss could theoretically be treated."
But I didn't make an investment recommendation at that time.
And here's why…
With biotech stocks, the medical breakthrough itself almost never leads to immediate gains for investors.
The truth is… biotech investing can be agonizingly slow… at first.
The company must establish the viability of the treatment through its own scientists' experiments.
It must go through years of long FDA approval processes.
It's got to establish markets… and prepare for launch.
It can take as long as 10 years for a company to start collecting profits.
This is one of the reasons biotech stock charts so often look like this:

Dormant. Totally flat.
That's a four-year stock chart of Idenix Pharmaceuticals, by the way.
It's not for many years that the company (like Idenix) finally turns everything into BIG PROFITS and rockets upward.
I foresaw a big buyout coming before I finally recommended Idenix in December 2013… Here's what happened: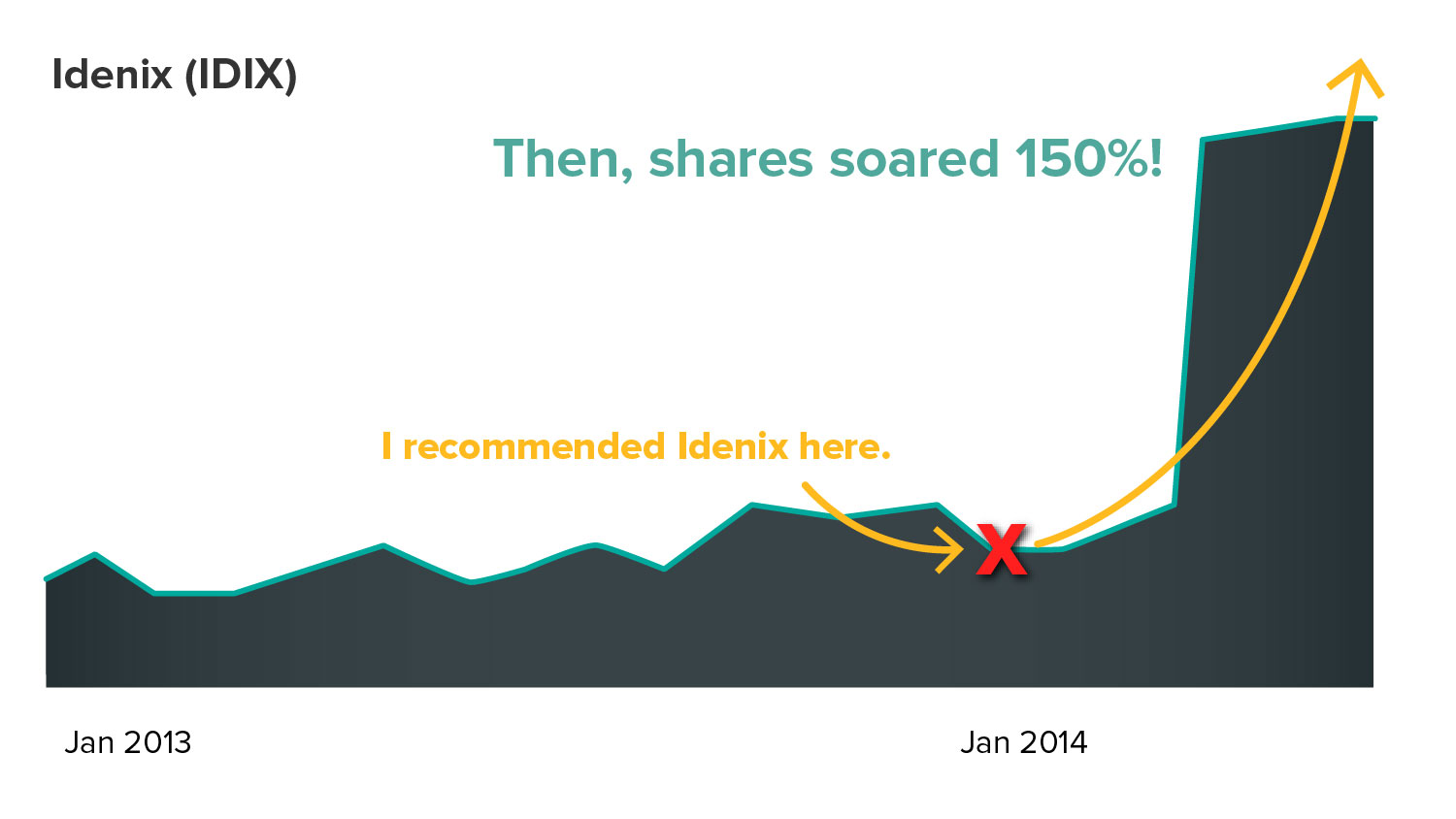 It exploded for gains of 150% in a little more than a month, right before Merck bought it out for a 229% premium.
This explosion in stock price didn't surprise me. I anticipated it.
But that's my specialty. I watch these businesses… often for years… in preparation for the big event.
And that's exactly what I've done since 2006 with the GMS company I'm going to tell you about today.
For nearly a decade, I tracked the company as it moved closer and closer to bringing this technology to patients across the globe.
But I'm finally ready to make this recommendation and reap the rewards of years of work.
This company's CEO sums up the opportunity nicely: "It opens up the door to a whole new class of medicines for diseases where existing drugs really are inadequate."
The company is on the verge of a massive transformation from the "development" phase to the "billions of dollars in cash" phase. And it's starting right now…
It's the reason I feel comfortable betting my paycheck that this stock makes money for you…
Big Money in Rare Diseases
You see… some of the most troubling diseases for doctors are the "rare diseases" that afflict only a tiny portion of the population.
Many of these rare diseases are directly related to gene mutations that alter the human body and make life very difficult.
PNH (paroxysmal nocturnal hemoglobinuria) is a great example.
It's estimated that only 21,000 people across the U.S. and U.K. suffer from this chronic disease where red blood cells break apart.
PNH is a killer within 10 years of diagnosis, on average.
And yet gene silencing can stop the gene that tells these red blood cells to break apart.
The company's treatment for PNH "led to a potent, dose-durable and statistically significant knockdown up to 96%."
That means that of the 21,000 people who could die within 10 years from PNH, 20,160 might live due to the new treatment.
But that's only one new lifesaving situation.
This company's revolutionary GMS treatment is working on DOZENS of rare diseases right now…
Hepatitis B viral (HBV)
Genetic disease
Cardio-metabolic
Dyslipidemia
Hypertension
Diabetes
Hypercholesterolemia
Nonalcoholic steatohepatitis
Hepatic infectious disease
Liver disease
Familial amyloidotic polyneuropathy (FAP)
Familial amyloidotic cardiomyopathy (FAC)
TTR cardiac amyloidosis
Hemophilia and rare bleeding disorders (RBDs)
Complement-mediated diseases
Hepatic porphyrias, including intermittent porphyria (AIP)
Primary hyperoxaluria type 1 (PH1)
Paroxysmal nocturnal hemoglobinuria (PNH).
So the question is this: How much money will the company make from these lifesaving drugs?
As you may know, the price of rare-disease drugs can often be incredibly expensive.
For example, Alexion-owned Soliris costs up to $700,000 per patient, per year, to treat a rare blood disease.
You may think more than half a million bucks for one patient's drug is ridiculous. And I wouldn't fault you for thinking that.
But private insurers and national health agencies actually willingly pay the high costs, according to Forbes.
That's because caring for people with conditions like these can run well into the millions.
Forbeswrites, "It actually SAVES the healthcare system money, despite its high cost, because other healthcare expenses drop dramatically."
Not only that, but I believe these companies ought to be rewarded. Without that profit motive, tens of thousands of people would lose their lives to these diseases.
And the GMS company has been operating for 10 years, developing these treatments, with the expectation that one day it would pay off.
Now it is…
Most Lucrative Drug of All Time?
Remember, the GMS company's drug recently attained a special FDA designation known as "orphan drug status."
The designation hands the company major competitive advantages on a drug that treats amyloidosis, which affects the liver and heart.
Orphan drug status is given to companies that treat rare diseases that otherwise leave patients with little hope for survival.
The status means a fast track through the process toward FDA approval… seven years of market exclusivity… tax rebates of up to 50%, which help cut clinical development costs up to half… and an expedited FDA evaluation toward global distribution.
How much of a competitive advantage can it give?
Biotech firm Alexion ought to give you a pretty good idea.
It earned orphan drug status on a rare blood disease drug named Soliris back in January 2014.
That "special status" helped Alexion generate $2.2 billion in sales on Soliris in 2014 alone.
Alexion's stock rocketed upward following Soliris' orphan drug designation: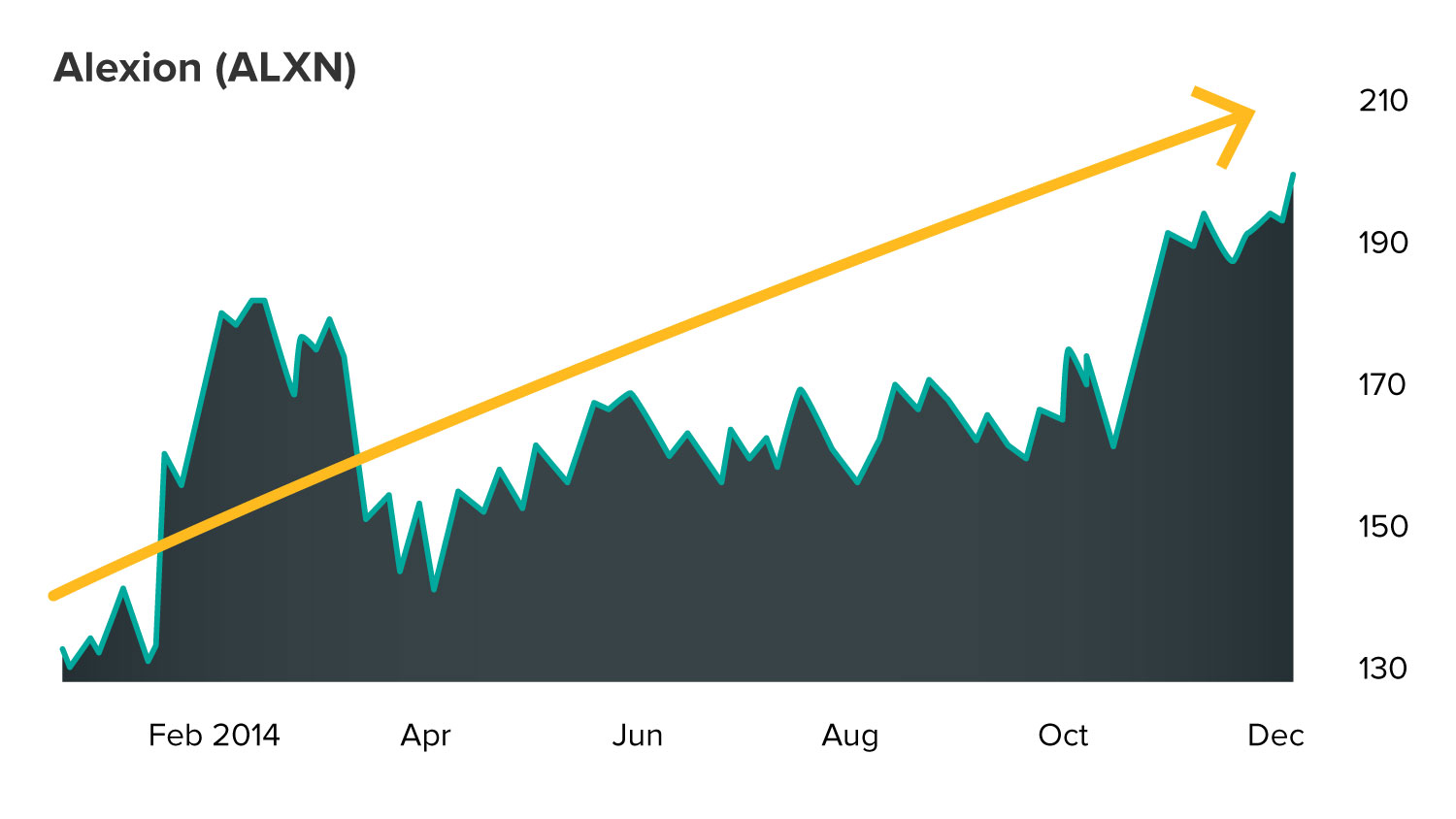 It ran from $130 all the way past $200 in less than a year!
And get this… Alexion is now valued at $33.6 billion based on the strength of its single prized drug.
But the company I'm talking about today?
It's already earned orphan drug status on two drugs that could generate similar revenues as Soliris did. (And as you'll see in a moment, five more may be getting special status shortly as well.)
Which is why I fully expect the GMS company's stock to start a nearly uninterrupted climb beginning right now…
When you look at the revenues, it's clear this is going to be huge… And I'm betting my paycheck the stock will at minimum DOUBLE by this time next year.
It Can Do No Wrong…
You see… as of now, the company has $41 million in revenue…
That's terrific for a biotech. Many of these types of companies have no revenue at all.
If Celldex can surge 419% with NO REVENUE…
And NPS can jump 775% with very little revenue…
Just imagine what this company can do!
But what's truly exciting is the direction its numbers are heading…
The company is building up its total assets… It's more than tripled in the last two years.
While its liabilities are down 15% in the past year.
This GMS company is already growing at a rate that's six times faster than the industry average.
And I expect it to increase even more than that by next year.
That's because this GMS company is shattering its publicly stated goals to have five drugs in the final stages of clinical approval by this year…
Instead, it has SEVEN current clinical-stage drugs.
As I mentioned, two of these already received orphan drug status… but the other five are not far behind.
It's possible each one could equal the $2.2 billion Soliris generated last year.
Some of the very best orphan drug companies can even top $11 billion a year in annual sales, according to biotech-now.org.
But let's be conservative here.
A report by the Evaluate Group conservatively estimates that the worldwide orphan drug market is set to reach $127 billion by 2018.
That would mean each one of these particular drugs could soon capture an average of $329.8 million annually.
Even using that figure on seven drugs, that's a total estimated revenue of $2.31 billion per year in the short term.
We're talking about a 5,534% increase in revenue in the months and years ahead.
As I showed you before, these seven drugs are simply the furthest along.
The company's gene-silencing treatment is treating 17 separate rare diseases.
Some are further along than others, but that's what makes this situation so compelling. We're looking at years of new drugs adding more and more to the bottom line.
There's a very real chance this GMS company could go down as one of the best biotechs in history.
I'm sure you're starting to see my willingness to bet my livelihood on this situation.
But time is of the essence.
The stock is not waiting for investors to get on board.
There's a string of positive news that's starting to send this stock higher.
Here's why you can't wait any longer…
On a Tear…
The sheer amount of great clinical trials are already starting to come at a ferocious pace.
Have a look:
February 13, 2015: In November it released positive Phase 2 data "showing that the compound could knock down levels of its target protein by as much as 98.2% in patients." – Genomeweb.com
May 17, 2015: "If these results extend in clinical studies, I believe that this investigational therapeutic has the potential to become an important treatment option for… liver disease," said Jeffrey Teckman, M.D., Saint Louis University School of Medicine. – Business Wire
June 12, 2015: "(The GMS company) reported positive data Friday on a rare-disease drug candidate and potential competitor to Alexion's blockbuster Soliris." – Investor's Business Daily
June 23, 2015: "Based on promising results, the [GMS] company now expects to advance the drug into pivotal studies." – MarketWatch
December 7, 2015: "Company remains on track to initiate Phase 3 studies in mid-2016." – Business Wire
April 3, 2016 "Shares of (the GMS company) have seen upward movement, giving investors a positive bump." – WallStreet.org
As you can see, it's one positive development after another.
What I love about this company is that it's set up to have new positive breakthroughs and advances just about every month for years to come.
In fact, the GMS company has publicly stated it expects "10 or more major clinical data readouts in 2016."
And the way this company continues to "wow" its way through clinical trials reminds me of Regeneron…
After successful Phase 1 and Phase 2 studies on Regeneron's drug Praluent (an antibody to treat hypercholesterolemia), its stock soared from $34 in January 2011 to $579 as of November 2015.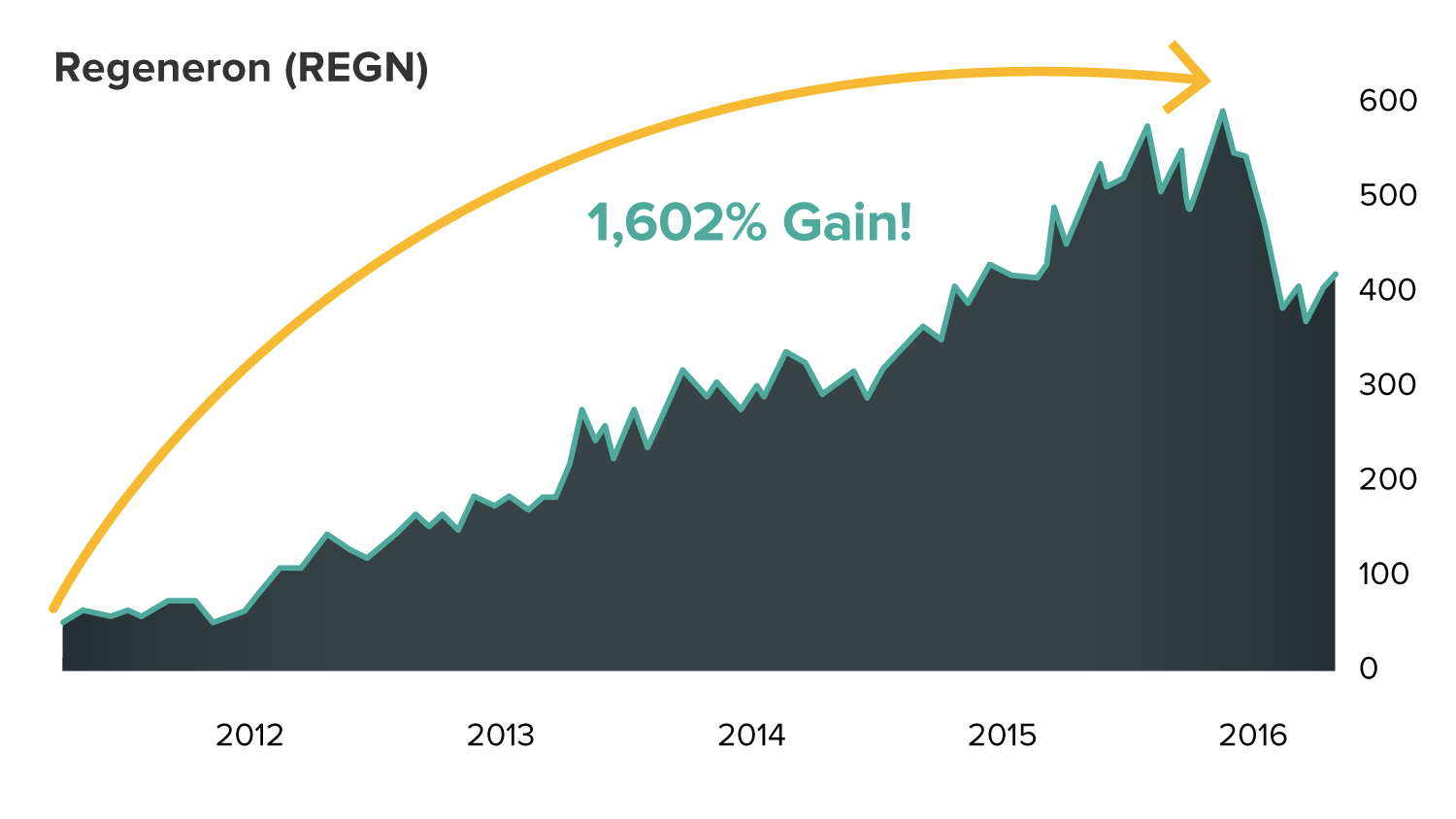 Take a look at that 1,602% climb over the course of its clinical trials!
Considering the consistent positive results I'm seeing with the GMS company and the sheer number of drugs in the pipeline, I could EASILY see it enjoying a steady stock hike like this.
That's because… "We're really at the early age of (GMS) biology," a former senior director of Schering-Plough Research said.
And as you know, the biggest gains go to early investors.
I'll show you how to get in on this opportunity shortly, but first let me explain why it's so important for you to get in before the end of the year.
Breaking News Coming Any Day Now…
The GMS company is expected to make a very important announcement in the days ahead.
It involves a drug that treats a cholesterol condition that directly affects more than 71 million Americans.
Now… to give you some idea of how important cholesterol drugs can be… consider that Pfizer's Lipitor is the highest-grossing drug of all time.
It's made $131 billion for Pfizer.
So there's a lot of money to be made in this field… if you can produce a drug that truly works.
And that's what has me so excited.
Any day between now and the end of the year, our GMS company is set to release the data on its drug.
And as soon as early 2017 it expects to advance the drug to Phase 3 clinical trials.
And let me tell you, I've already seen the numbers… and they are impressive.
Levels of low-density lipoprotein cholesterol – or "bad cholesterol – are down by as much as 83% for patients taking the drug.
And tests show "no serious adverse effects."
Before the end of the year, this company is going to release this positive data.
The company has publicly stated that these results will be coming by the end of 2016.
This is important for two reasons…
It means the company might have THE premier drug in a $19 billion-a-year market.
When positive data like this gets released, it puts the drug on an even faster track to market.
The second it announces this… investors will go crazy. The stock isn't moving on this yet, but believe me, it will be shortly.
And I can tell you the insiders are moving quickly to position themselves.
For example, Genzyme, a Big Pharma company that knows exactly how to read the data, recently put $700 million into the stock, even paying a 27% premium.
The GMS company's CEO is loading up as well…
This brilliant gentleman (who earned a Ph.D. in one year) bought an additional $950,000 worth of shares on the open market last January, upping his total investment in the company to almost $8.31 million.
You think he doesn't understand the profit potential here?
Some of the institutional holders have quietly started to move in as well…
Vanguard's in for 5 million shares.
BlackRock has 1.7 million.
And Wellington Management got its hands on 10.6 million.
After the next positive data announcement, you can expect those numbers to increase significantly.
Another major event should hit in early 2017.
Here's what's on the horizon…
The S&P's Newest Darling?
Between now and early 2017, we could see at least 10 more releases of positive data regarding drugs in this company's pipeline… each one propelling the stock to new heights.
But I believe another announcement will end up being the one that turns this company into a household name.
In short, an insider reporting group released information that leads me to believe this company will be invited to join the S&P 500 by early 2017…
The S&P would be wise to invite it…
For one, the GMS company has crushed other S&P 500 firms in performance in the last year.
At the start of 2016, it was up around 37% since April 2014, while the S&P 500 was only up about 5% or so.
That was more than a seven-fold outperformance.
And it qualifies in every category needed to become an S&P 500 company.
Entrance into the S&P is largely considered a "coming of age" for a company.
Nearly $5 TRILLION in investor money is tied to the S&P.
"When a stock is added to the benchmark index, scores of index funds and other investments tied to the S&P 500 MUST buy the stock," according to USA Today.
Zoetis Inc., one of the most recent S&P 500 additions, has been on a steady climb upward since its inclusion in June 2013…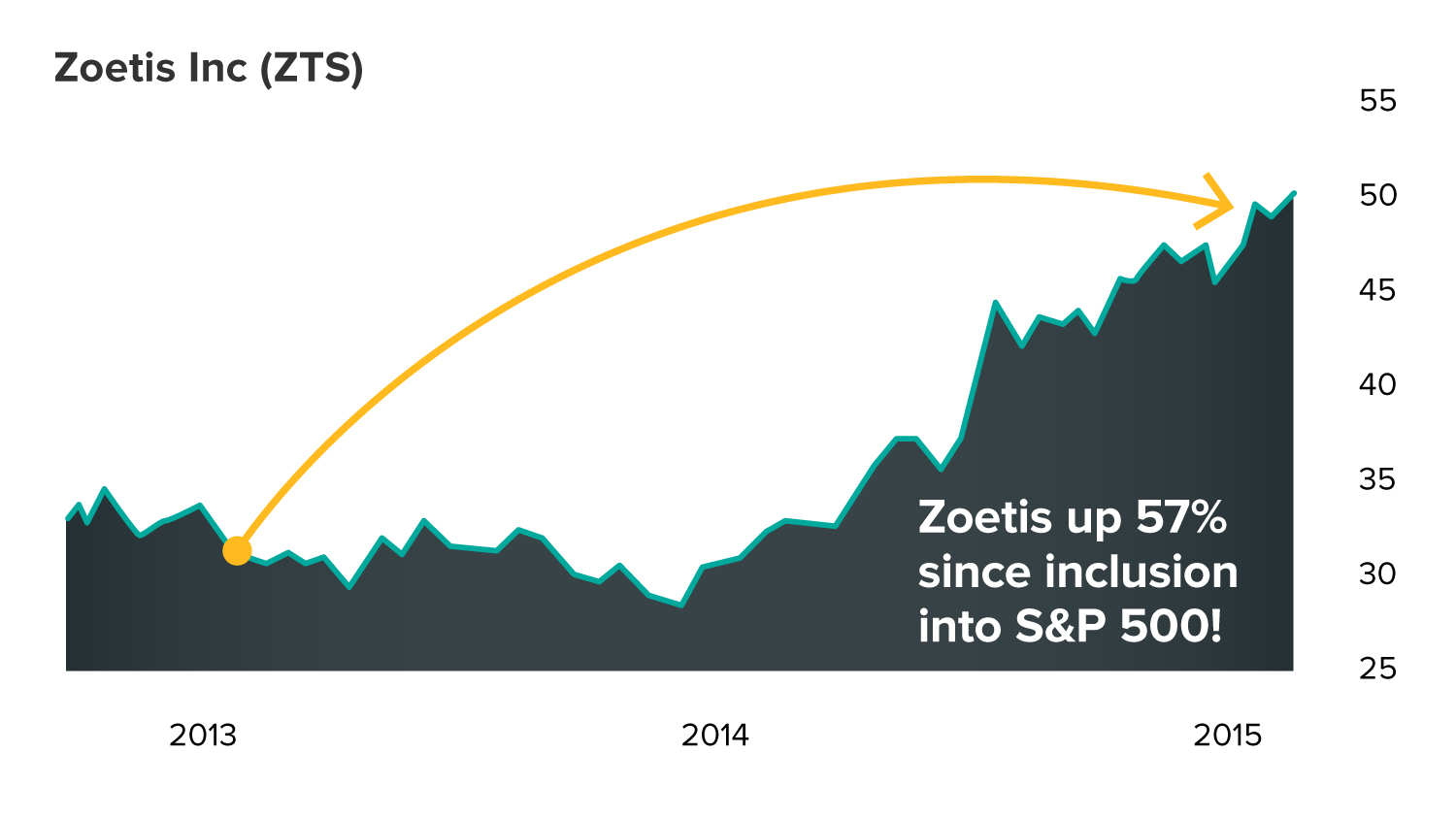 It's up 57% since the day it entered the index.
Reports started circulating about Skyworks Solutions getting added to the S&P 500 on February 13, 2014.
Since that initial report, Skyworks rocketed 227% over the next 15 months.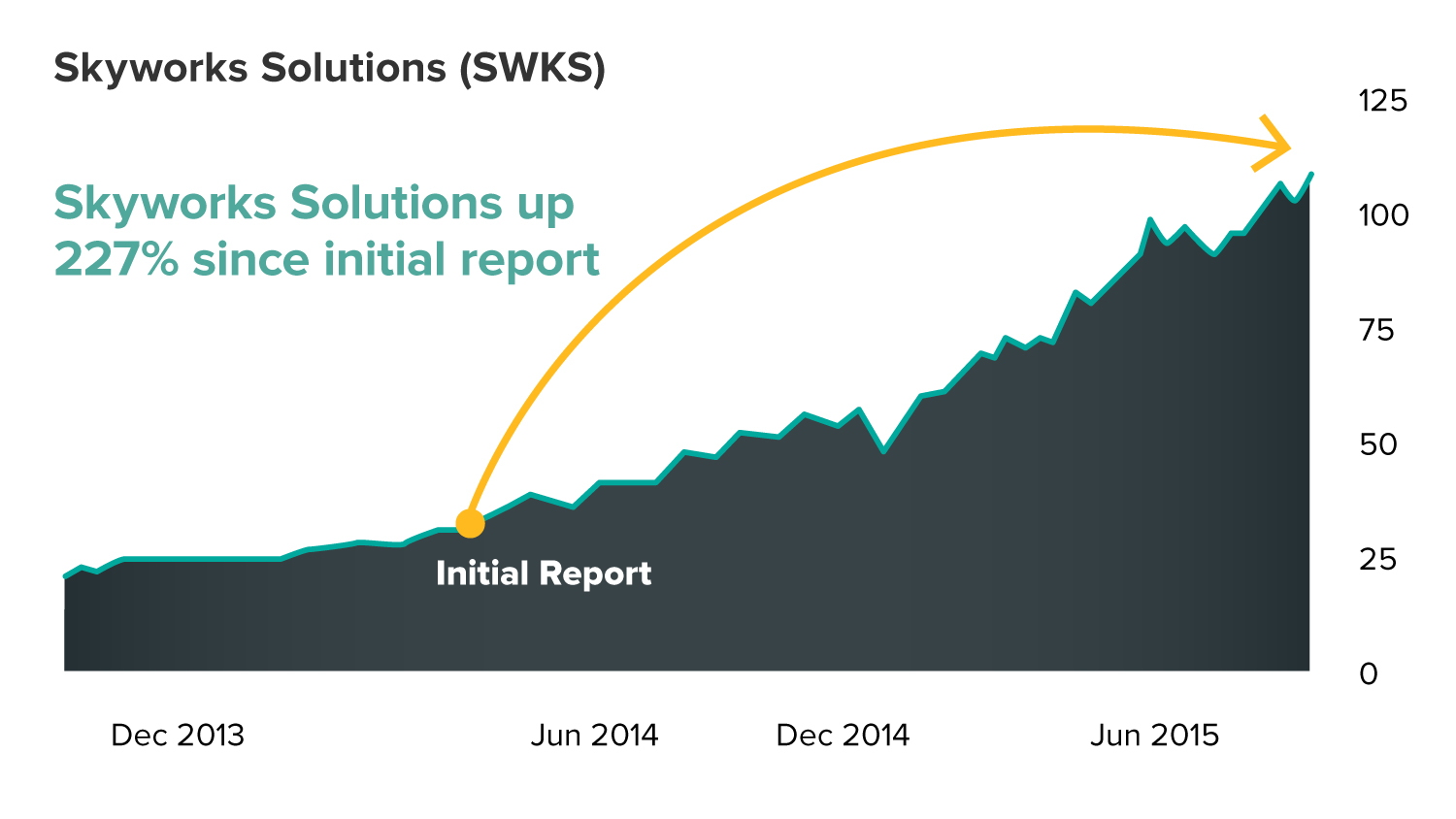 You could have more than
tripled
your money!
I believe an early 2017 addition of the GMS company to the S&P will only generate more buzz regarding its revolutionary medical technology… and again, will only propel the stock higher.
It'll add even more rocket fuel to the upward trajectory.
Let the Drug Giants PAY YOU a Premium
And there's another reason to be excited about this company.
There's a very real chance it could get bought out by a drug giant.
As I told you, Genzyme spent nearly three-quarters of a billion dollars to grab a 12% share in the GMS company.
It sees the potential here.
It's a strategic partnership that will help market several of the drugs worldwide.
But it could also be a move that opens the door for a future buyout.
What I love about buyouts is that they can give us huge gains in just a day or two.
In 2014, Roche acquired Intermune for $8.3 billion. It paid a 38% premium above the share price.
Last year, Merck bought out Cubist for $8.4 billion at a 35% premium.
And in a pending deal, Alexion is purchasing Synageva for $8.4 billion, even though Synageva doesn't have a single drug on the market!
Look what happened to Synageva's stock on the day of the buyout announcement: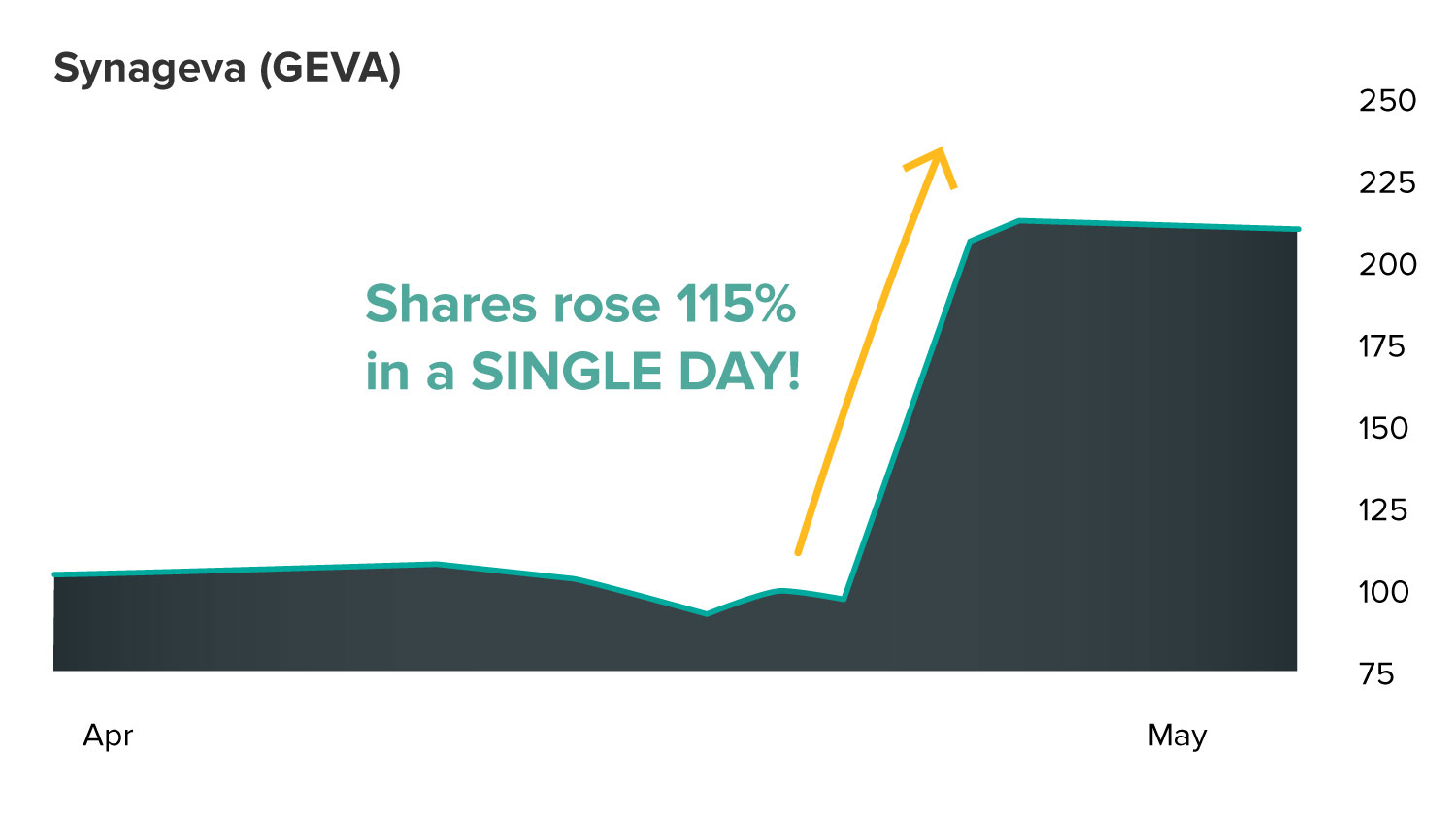 Synageva shares rose 115% in a SINGLE DAY when the deal was announced!
So, as evidenced here, a future buyout could be another great opportunity for investors. And the stock has plenty of room to run until then.
But wait… the investment opportunity keeps getting better…
Pole Position
Why else am I so confident this company will go on a straight shot upward?
One reason is that it has virtually zero competition.
In fact, for only $25 million in cash (and $150 million in stock), this GMS company bought out its only true competitor…
The acquisition provided…
Critical intellectual property to advance new classes of medicines
New revolutionary GMS delivery technologies
And additional pre-clinical drug candidates.
Thanks in part to the buyout, this GMS company now has a total of eight additional drugs in its pipeline…
That now makes 15 total.
With the chance to make an average of $329.8 million on each.
That would push revenues from $41 million up to $4.94 billion, an extraordinary increase of 11,948%!
You can clearly see the progress reaching exponential new levels…
But you cannot wait here.
As I've shown you, the positive news is already coming hard and fast.
Because institutions are pouring millions into this stock, it won't be available at these prices in the coming weeks and months ahead…
And I'm not one to make a call like this lightly. In fact, I've never done anything remotely like this in my 20 years in the business.
I'm more likely to bash a stock than to overhype it…
I Call It Like I See It
August 2014 is a great example.
CNBC contacted me to discuss AstraZeneca, a biopharma company, on national TV.
News just broke that the U.S. government cleared AstraZeneca of any wrongdoing during trials for its heart drug treatment.
The stock price had been on a rocket ride up at this point, having soared from $50 to $70 over the past year.
And CNBC wanted me to debate another analyst about AstraZeneca.
The slick-looking Wall Street fellow started first…
He spouted something about "a compelling technical setup" with a "powerful fundamental catalyst" as he brought up a 200-day moving average…
He finished with a resounding line: "This is one you want to own."
The anchor then came to me with the question, "Do you like it as much?"
Here's what I said: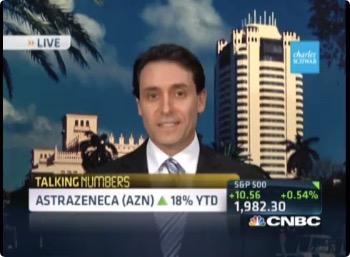 "No, not at all… I don't think the drug Brilinta will come close to the $3.5 billion in revenue that was originally projected. Earnings growth is expected to be flat over the next several years… I think there are a lot better opportunities out there."
AstraZeneca was trading at $70 a share that day.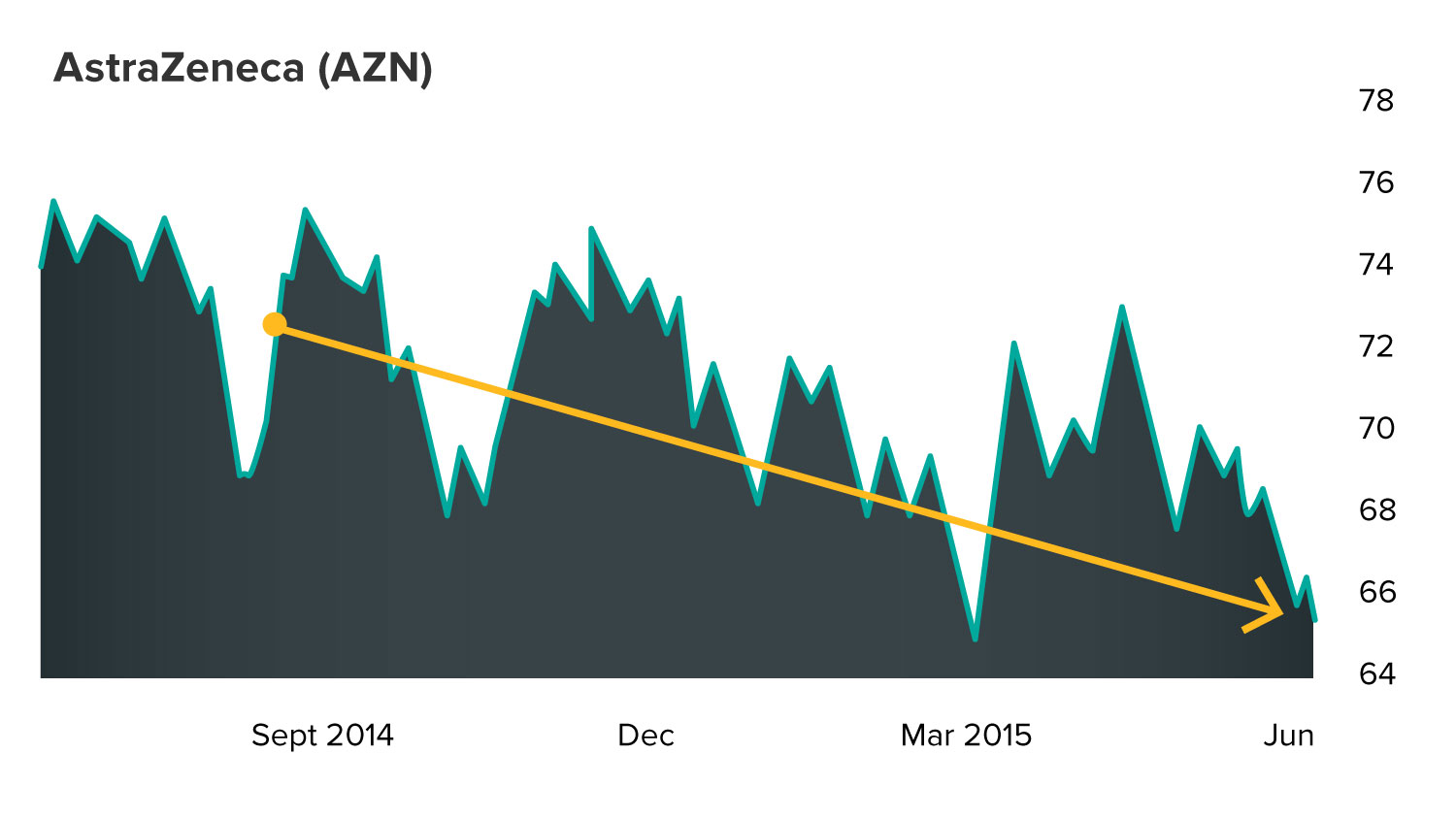 It's lost about 30% of its value since I made that bold prediction, even after a two-for-one stock split:
I hope you didn't take Wall Street's advice on that one.
And at the end of that video, when I said, "I think there are a lot better opportunities out there," I meant it.
It's the one I've been telling you about today.
One I'm so sure about, I'm willing to put my livelihood at stake…
Just look at this lengthy list of the GMS company's competitive advantages:
Nobel Prize-winning technology
Orphan drug status
$1.28 billion in cash and NO DEBT
Positive results across all trials since 2009
Far-surpassed 2015 goals
Bigger market cap than an S&P 500 competitor
Lucrative partnerships with Genzyme and other giants
A shot at the world's most profitable drug
Potential buyout opportunities
Increased insider and institutional buying
Seven drugs at the end of clinical trials that could generate $329 million each
And eight additional drugs in the pipeline.
I'd like to deliver you the stock ticker and a complete report on this company…
Including the catalysts coming up between now and the end of the year, as well as early 2017, that could propel the stock to double in the next 12 months.
Now remember, the double is what I'm willing to bet my paycheck on. I actually believe this could go much higher, but it's better to stay conservative.
I certainly don't want you to miss out on the first boost in stock price.
Remember, we've seen companies like Synageva explode 115% in a single day.
That's why I'm betting my paycheck only IF you get started at today's prices.
Let me tell you a bit about that now…
Instantly Access My Special Report
As I said earlier, my name is Marc Lichtenfeld.
I'm the Chief Income Strategist and resident biotech expert at The Oxford Club… My mission is to find the types of stock opportunities like the one I've shown you today… ones with tremendous upside potential and limited downside risk.
To do this, I tap into the smartest minds in our network of highly connected individuals.
I've interviewed healthcare megastars such as…
Former Pfizer Vice President Chris Martenson, a trained scientist with a Ph.D. and a post-doctoral degree from Duke University in neurotoxicology
Red Acre Investments' Managing Director Dr. Rajesh Patel, who carefully laid out his "key" takeaways from the "Super Bowl of Biotech," aka the annual J.P. Morgan Healthcare Conference
And Dr. Michael Roizen, the chief wellness officer at the Cleveland Clinic, who unveiled a shocking statistic that the U.S. will soon be spending 15% of total GDP on diabetes treatments unless a better solution is found.
As a best-selling author, I'm seeing one of my books quite literally selling faster than the printers can keep up with.
I'm proud to say it was just named "Book of the Year" by the Institute of Financial Literacy.
It's selling globally now, published in different languages.
But I'm also the Editor of Lightning Trend Trader, an award-winning service of The Oxford Club.
In short, my goal with Lightning Trend Trader is to uncover great companies on the verge of experiencing the types of catalysts that I shared with you today.
I'm talking about predictable events that propel stocks to explosive revenue growth… and create bursts in the stock price.
I watch for these events and then alert my subscribers the moment they should get in.
I should emphasize that I'm not one for risk.
And most stocks don't meet my strict criteria.
Just ask reader Jules Waggoner, who's been along for the ride.
"Marc, you're up there with Warren Buffett and John Bogle when it comes to people whom I admire for their patient, disciplined and ethical approach to investing…Thanks again."
The stock I've told you about today is a great example.
I tracked it for 10 years before finally pulling the trigger.
It has required patience and discipline…
And I've always had a hunch that this opportunity could wind up as my very best recommendation…
I'm talking about of all time.
My readers have made exceptional gains as high as 158%…286%…307%… 550%… even as high as 775%!
But with this one I'm unveiling for the first time today… it could make those others look small.
I'll put my thorough approach with this company up against any hedge fund manager, newsletter editor, Wall Street analyst or ANYONE else…
It's taken me 10 years to fully vet this one investment opportunity.
Think about it like a $100 bottle of 10-year-old Tyrconnell Whiskey.
You'd have ruined it had you tasted it a day too soon!
I'm convinced NOW is the time to "pop open the bottle" on this stock.
In fact, as you're about to see, I'm betting my personal paycheck that this single stock makes you money.
With two important catalysts coming between now and the end of the year and in early 2017…
I'm certain this stock will be one of your best performers as well.
And here's why these catalysts are so important.
Ride the Lightning…
As the name of my service – Lightning Trend Trader – implies, I've found there are certain events that bring flat biotech stocks to life.
I call these catalysts "Lightning Strikes."
For example…
On June 8, I told readers, "Synergy Pharmaceuticals' plecanatide has performed well in clinical trials so far…The company is expected to release Phase 3 data any day."
I had carefully examined the reports, I knew what was coming… "The drug works. That's a fact," I reported.
Sure enough… just nine days later, there was a Lightning Strike!
Synergy Pharmaceuticals'stock exploded more than 67% in a SINGLE DAY thanks to positive results on its experimental drug.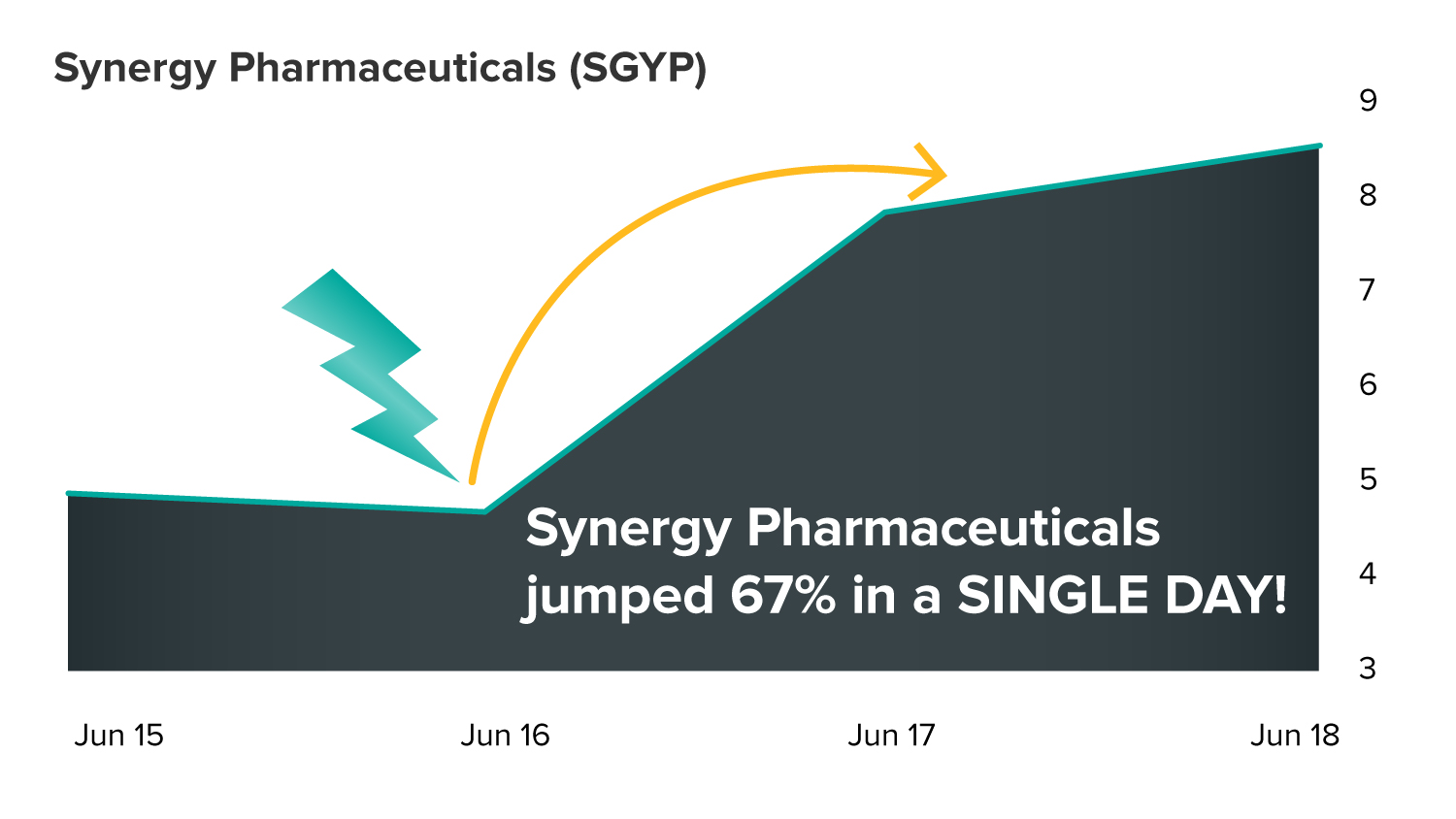 That 67% single-day stock move set a 27-year record at The Oxford Club for the biggest one-day gain in Club history
.
The next day, one hedge-fund-tracking website reported, "Insiders were right about Synergy."
No doubt about it. We hit that one right out of the park.
Here's another example…
My very first Lightning Trend Trader recommendation of 2015 was GW Pharmaceuticals, a company that develops drugs based on cannabinoids.
I met with GW management, asked the tough questions about its growth strategies and got the responses I was looking for.
On February 19, I wrote, "The stock looks like it's setting up for a Lightning Strike, emerging from a consolidation pattern, which often leads to strong surges higher."
Over the course of the next few weeks, it was a slew of positive news for GW.
The American Academy of Neurology gave it a nod of approval…
It was granted orphan drug status…
And it experienced a flurry of insider activity.
(All of which are events similar to those happening to the company I've told you about today.)
Guess what happened to GW's stock?
After these Lightning Strike catalysts hit, it soared: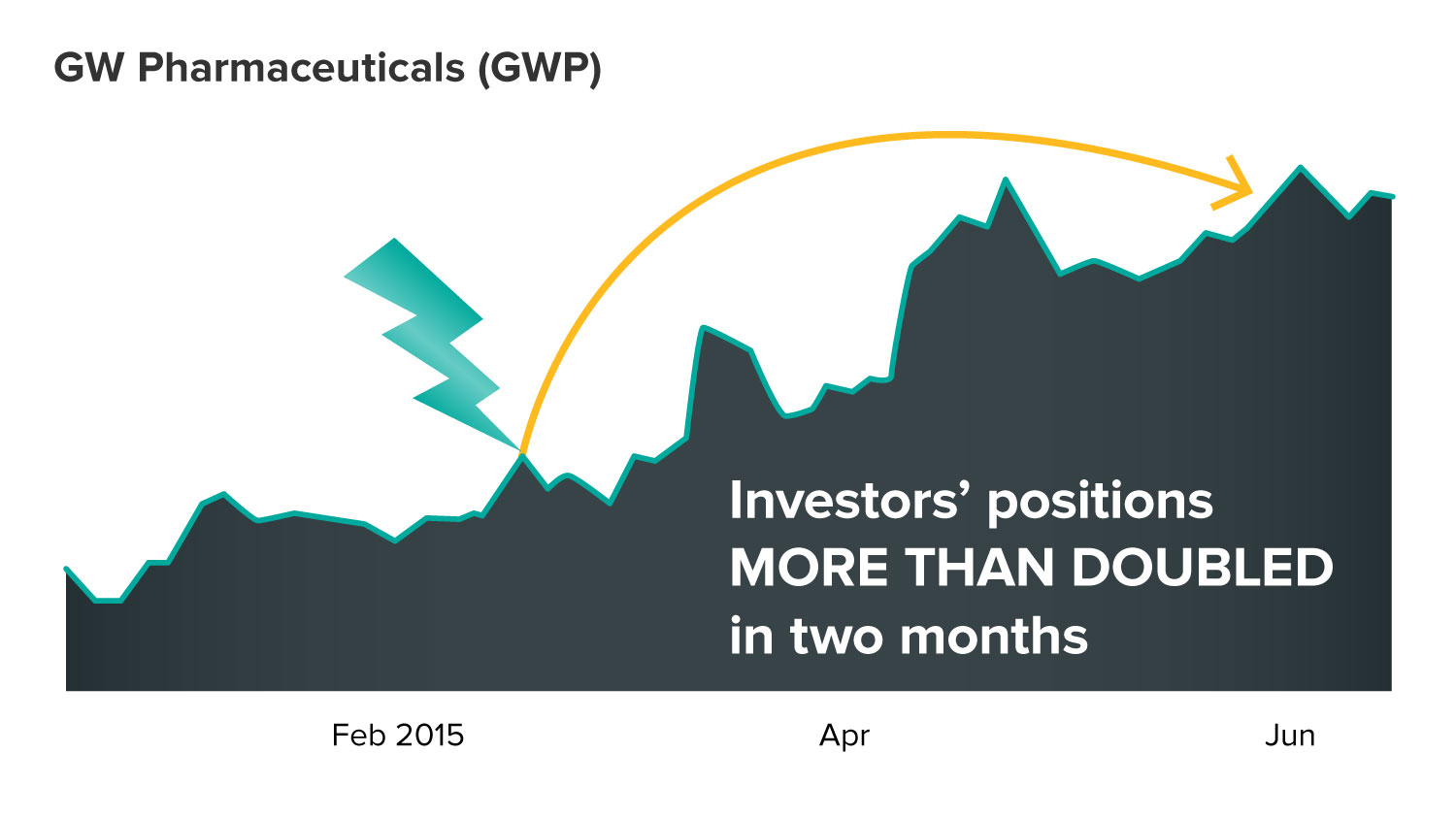 Investors who took my advice saw their positions more than double in just two months
.
What I do with Lightning Trend Trader is alert you any time a Lightning Strike is set to hit an individual stock.
So let me show you how it works…
Your Personal Invite
You see, Lightning Trend Trader is a very easy-to-understand service.
Through my research, I recommend only the very best companies on the verge of Lightning Strikes.
I tell you when to buy and when the run is over so you can close out with max gains.
At most, it takes you only a couple of minutes a week to check your email and choose to act on my instructions.
With my service, you could have scored the following:
775% on NPS Pharmaceuticals in only five months!
419% on Celldex in only 11 months!
329% on Onyx Pharmaceuticals in only three months!
307% on Auxilium Pharmaceuticals in only four months!
286% on CareFusion Corp. in only three months!
190% on Pharmacyclics in only five months!
178% on Idenix Pharmaceuticals in just one month!
152% on Hologic in only three months!
With Lightning Strikes, I'm able to pinpoint the EXACT day when flat stocks will spring to life.
I've done it over and over again.
I primarily stick to the types of events that make big headline news.
Lightning Strike events like Phase 1, 2 and 3 results, FDA approval, new products in development and revenue surprises…
We will capitalize on those events as long as I'm convinced that they're going to send the stock upward.
One gentleman who made 790% on a single trade said this about Lightning Trend Trader:
"It is very exhilarating when this happens like a bolt of lightning. As a friendly request, please bring similar plays and ideas."– Ivan F.
On the topic of similar plays and ideas, I don't want to limit Lightning Trend Trader to biotechs ONLY.
If I uncover a rare situation (in any stock) where I see a very predictable Lightning Strike catalyst coming up…
I'm going to share it with you so you can make money on that too.
There are plenty of catalysts that can cause Lightning Strikes in other sectors.
Some of the most important ones are…
New product launches
Earnings report surprises
Huge influxes in institutional investing
Buyouts
Mergers
And new joint ventures.
If I see one or a combination of any of these Lightning Strike catalysts, it usually means huge winnings for investors who get in early.
Palo Alto Networks is an excellent example.
Last March, its stock was dead in the water…
But that's when a Lightning Strike event hit…
Palo Alto held an "Analyst Day" in late March… The meeting went very well and revealed that Palo Alto would be a lead company in stopping the massive data breaches that hit companies like Target and Sony.
In the days that followed, analysts reiterated "Buy" recommendations, using terms like "all systems go" and "red-hot growth prospects."
But because I did the homework before the good news got to the general public, my subscribers did very well.
Not surprisingly, the stock took off.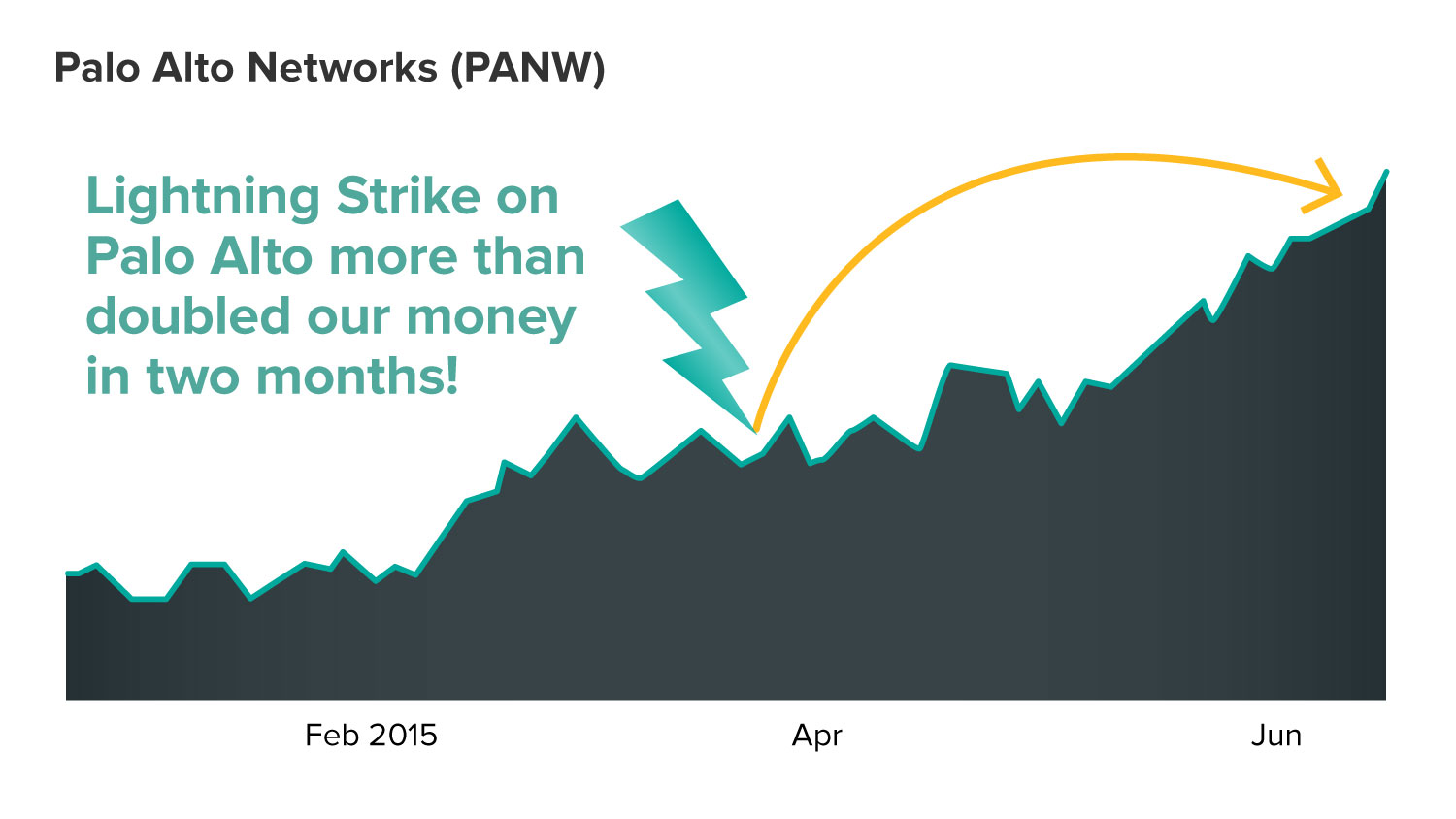 Readers were sitting on gains as high as
235%
as of June 25!
The point is… once you sign up for Lightning Trend Trader, I'll be doing all the hard work for YOU.
Every morning, I'll examine the very best potential candidates.
I'll research specific Lightning Strike catalysts coming over the next few days or weeks.
And then I'll let you know the exact moment to invest.
Which means if you decide to get in on the action, I'll make it as easy as possible for you to just sit back and watch your brokerage account double… triple… even grow eight times your money in some extraordinary cases!
This Is YOUR Chance
For a limited time only, I'm personally inviting a select few people to join my Lightning Trend Trader research service.
It's first-come, first-served… and I can only guarantee a select number of new admissions (approximately 100 today).
But if you act now, you may get in before we reach capacity.
And I'm 100% sure you'll be pleased with the results.
In fact, I'm betting my career that you'll be happier and wealthier… thanks to my exclusive service.
These fine folks were!
"Sold at a 360% profit…I've been telling as many people that will listen to get on board with your service. Keep it going, Marc, this has been awesome so far." – Ryan Schnieders
"Up 194%…Just waiting on your next recommendation to put that cash to work. Nice call, sir!" – Liz Baranik
"I am 81, a retired economist from William & Mary…So far I have enjoyed playing your selections. I made over $2,500." – Geoffrey Martins
"Pocketed an additional $11,000 of pure profit!" – Phillip Carpenter
"Stellar news today. I'm up 231%! I am curious to see what tomorrow will offer." – Iliana Ramon
"Marc, I just sold for a 171% gain. What I'm going to do is gloat."– Alex Battastelli
Ha!
I'd like you to be able to "gloat" too…
That's why I want to welcome you as a new subscriber and why I look forward to building a long-lasting relationship.
It doesn't matter whether you're old or young… My Lightning Trend Trader can work for anyone.
"I'm a 25-year-old and recent college graduate…I'm excited about the opportunity to put this knowledge to use." – Jeremiah Hutchinson
Well get ready, Jeremiah, because I've already found a few stocks for which the catalysts for Lightning Strikes are coming up very soon.
You see, I'm not going to tell you about one company only and send you on your way.
I'm here to ensure you're making money all year round.
These two BONUS recommendations could hit in the next few days.
Here's what you can expect…
Next Lightning Strike Could Add 93% in Additional Gains…
The first company I'm tracking is a unique biotech that treats diseases of the eye with a focus on age-related macular degeneration.
Right now, macular degeneration (which leads to vision loss) affects up to 50 million older adults worldwide.
However, due to an increasingly larger and longer-living population… that number is growing.
Which creates even bigger demand for this company's developing products.
Right now, 46% of patients have lost vision after two years of treatment from current products on the market.
And within five years of treatment, 37% of patients have become legally blind.
That's not good.
But that's where this little company comes in.
In Phase 2 trials of a prized drug combination, patients are actually improving by 10.6 letters on an eye chart.
And there have been no safety concerns.
The prospects are so great, in fact, that one Big Pharma company gladly handed this little gem a deal worth a total of $1 billion to market its coming products.
That blockbuster deal might end up being "a steal" when you consider the annual sales projections for the top drugs in the market
can top $8 billion.
What's better… two Lightning Strikes are on the horizon.
It's in separate Phase 3 studies and was given "fast-track status" by the FDA because there's such a dire need for a solution to the
macular degeneration problem.
Separate Phase 3 data readouts are expected this year.
And if all goes as planned, this company could start cashing in on the $8 billion market as soon as next year.
In the meantime, with $296 million in cash on hand, this eye therapeutics company has plenty of money to continue developing its
drugs without having to go to the market for more capital.
I believe this company could easily deliver 93% returns in the coming year.
I'll tell you in a moment how to get the info on this company…
But first, let me tell you about another company I'll be recommending…
Tiny Cancer-Fighter Poised to Double…
There's a little cancer-fighting biotech I'm particularly excited about…
It has three drugs in early-stage trials.
Despite being so early-stage, it's already generated more than $300 million in revenue from partners and over $500 million in cash on hand.
Bristol-Myers Squibb doled out $30 million to study this little cancer-fighting company's Phase 1 drug.
GlaxoSmithKline locked up a partnership.
And with several data announcements over the next few months, there's potential to capture Lightning Strikes all year long.
Additionally, with so many large pharma companies interested in this cancer-fighting company's technology, it wouldn't surprise me if a buyout gets offered…
Maybe even for $2 billion.
Nearly twice what it's worth now.
How does a 100% premium sound to you?
All the Details Right Here…
So, how do you find out about the great GMS company…
The revolutionary eye therapeutics company…
And the little cancer-fighting company?
I've got all the details, including the ticker symbols… when to buy… and when exactly to collect your profits…
They're all in a specialexclusive report that I've prepared for you, called…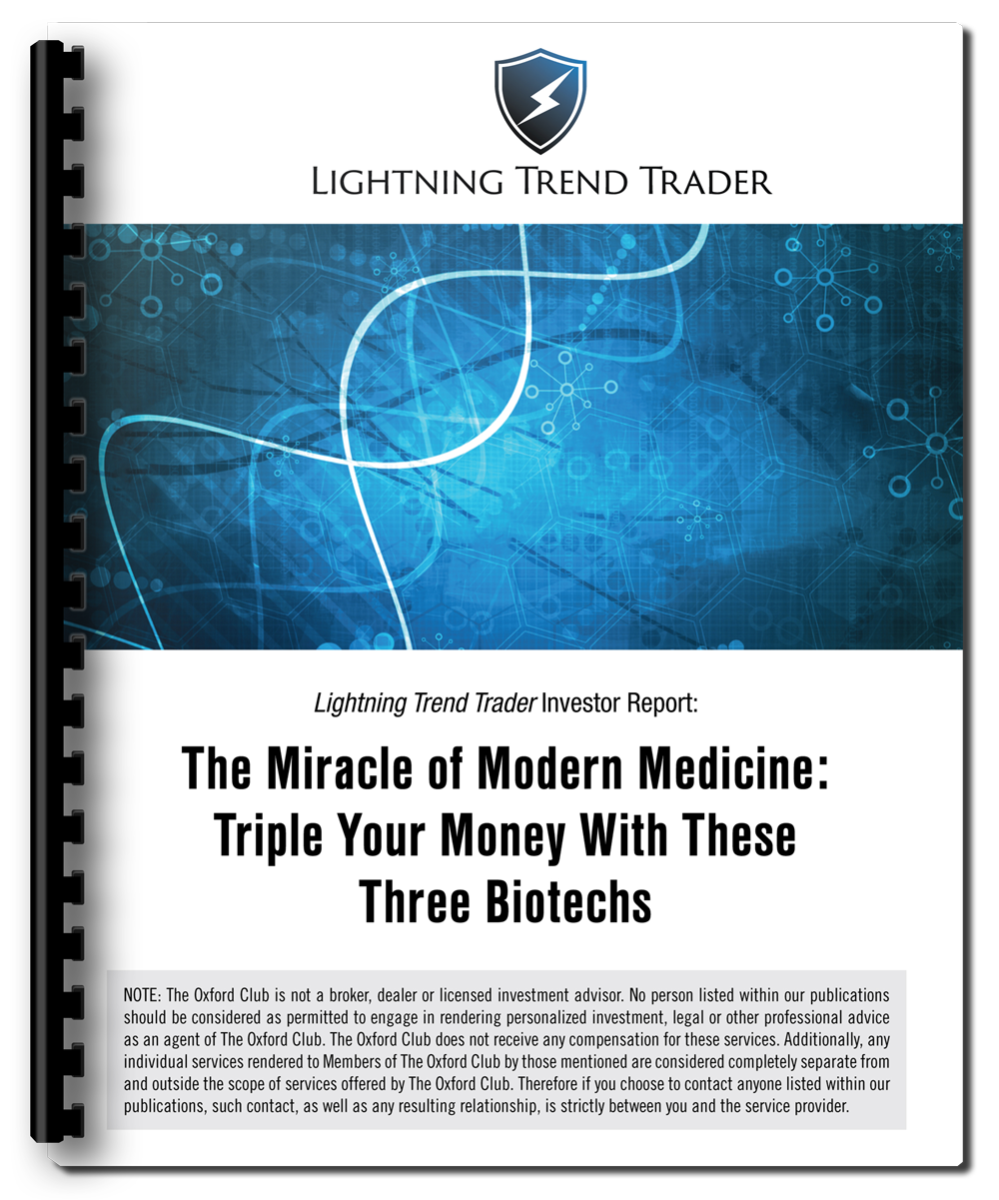 "The Miracle of Modern Medicine: Triple Your Money With These Three Biotechs."
With these three special companies, you should be off and running with Lightning Trend Trader.
These are just some of the companies that could experience Lightning Strikes this year.
But the truth is, I'll only find more over the course of the next 12 months.
Consider that my readers have more than doubled their money on my Pharmacyclics, NPS Pharmaceuticals and Astex Pharmaceuticals recommendations, just to name a few… and more than quadrupled their money on my Celldex pick!
If you want to get your hands on these recommendations – as well as the others I'll make throughout the year – there's only ONE way to do it…
Join my Lightning Trend Trader service!
At most, you'll need to spend a MAXIMUM of 20 minutes a week acting on my Lightning Strike recommendations.
Remember, I do the work for YOU.
So you can go about your business.
And that's exactly what my subscribers love about this service.
Like self-proclaimed "nine-to-fiver" Terry Beecher.
"As a working stiff, I do not have enough time to do all the research you make available for us," Terry said. "I appreciate the service very much."
Being a Lightning Trend Trader is about seeing opportunities to make money around the clock, even while you sleep.
You read my alerts.
You buy the picks.
You enjoy the profits.
That's it.
As Perry Thomas – the Sacramento fellow who made 285% on a single play – said, "I love Lightning Trend Trader."
Of course, with your subscription, you'll immediately get my exclusive premium report, which includes the ticker symbols of the following companies:
The great GMS company
The revolutionary eye therapeutics company
And the little cancer-fighting company.
It's all included in my report for YOU, called:
"The Miracle of Modern Medicine: Triple Your Money With These Three Biotechs."
I can have it sent digitally to your inbox within the next 15 minutes.
So you're probably wondering by now… What does it take to become a Lightning Trend Trader, and what is this bet that I've been
telling you about throughout this presentation?
Get FAR MORE Than What You Pay For
Like I've said, I've been involved in the financial markets for 20 years.
I've seen research services charge ridiculous fees for an annual subscription.
But I can guarantee you that none of them work anywhere near as well as Lightning Trend Trader.
I'm going to be straightforward and make you what I consider to be a very fair offer.
The retail price for Lightning Trend Trader is $4,000.
That may seem like a lot of money, but it's really not.
Subscriber Tom Jackson is using the $24,000 he made on ONE recommendation to take a trip to Hawaii in December.
"Makes the subscription cost for your service look pretty small in comparison," Tom wrote.
Sure does.
"Earned my Lightning Trend Tradersubscription back in the first week with Synergy Pharma," said Kevin Harvey.
And Gregory Troy wrote to tell me he made "1,619% annualized" thanks to the service.
"Thank you!" Gregory said, almost lost for words.
1,619%… That's enough to turn every $4,000 into $64,760!
However, I realize that a lot of people nearing retirement age aren't as fortunate as Gregory and Tom.
CNBC reports, "Most older Americans fall short on retirement… 29% of Americans have nothing saved at all."
What a travesty.
That's why I've decided to make Lightning Trend Trader more affordable for folks who really need the help.
My publisher and I have agreed to bring the next round of subscribers in at a heavily discounted price of only $1,595.
Plus, I'm so confident you're going to enjoy my Lightning Trend Trader that I'm going to put my money where my mouth is and guarantee your success.
You've probably been wondering what sort of guarantee I've been making all this time…
You know, the bet that has my wife very concerned…
It comes in three parts.
First…
Double Your Money on the Great GMS Company, Guaranteed
I'm so sure of the success of the GMS company I've told you about today that I'm guaranteeing you it will be possible for you to
double your money on it by this time next year.
That's right. I guarantee it.
I've told you about the countless significant competitive advantages this GMS company holds, such as…
Orphan drug status
$1.28 billion in cash and NO DEBT
Positive results across all trials since 2009
The world's most expensive (and profitable) drug
Seven drugs at the end of clinical trials that could generate $329 million each
And eight additional drugs in the pipeline.
And we've already discussed the many reasons why I think its revenue is set to explode by 5,534%…
So… simply put…
If our track record doesn't show a double on this GMS company recommendation within one year's time, I will forego my paycheck and continue working for you next year completely FREE.
Just give us a quick call and we'll add an additional year to your subscription at NO CHARGE. You won't pay a dime for your second year of service.
That's only Part 1 of my guarantee…
Second…
Double Your Money at Least Three Times in a Year or I'll Work for Free
You've already seen the kind of money you can make with my strategy.
I've shown you how my readers had the chance to grab EIGHT 100% gains in a single year.
We've also averaged 98.5% gains over the course of a full year. These numbers are truly staggering when you think about it.
That's why I feel very comfortable guaranteeing that you'll see the opportunity to double your money on at least three recommendations in the next year.
And if you don't, again, just give us a call and I will continue working for you for an additional year at no charge.
You get the opportunity to double your money on at least three different investment opportunities in a subscription year.
Or I'll be working for free.
You might not think this could get any better…
But I'm going to up the ante one step further…
The third and final part of my guarantee is this…
Take the Next 90 Days to Try It Out… at MY RISK!
I'm giving you 90 days to try my acclaimed service Lightning Trend Trader at my risk.
I want you to take this time to see how the recommendations play out, get a feel for how I work and the sort of detailed research I give you, and really get a full taste of what Lightning Trend Trader is all about.
But if in that time you decide to cancel, just call us and we'll promptly give you a full refund, minus a 10% processing fee.
We do this because some folks think they can just take my recommendations and cancel. Then they have the audacity to sign up again, get more recs and cancel again!
The 10% fee shows me you're signing up "in good faith." In any case, I'm 100% confident you'll remember this moment – as you sign up for Lightning Trend Trader – as one of the greatest financial decisions you've ever made.
And if you respond to this presentation now, you'll get the full 90 days to try it out.
If Lightning Trend Trader doesn't meet your expectations for any reason, simply call our Member Services department.
But honestly…
I just can't imagine anyone canceling the service after they see how powerful it is.
Remember, one Lightning Strike helped one gentleman score $24,000…
And a Hawaiian vacation!
So if you're ready to start making the kind of money you've always deserved…
You need to get started RIGHT NOW.
Simply click the button below to join, or call our VIP Services Team at 888.570.9830 or 443.353.4537.
As soon as you sign up, I'll rush you my exclusive premium report,
"The Miracle of Modern Medicine: Triple Your Money With These Three Biotechs."
You'll receive it in your inbox within the next 15 minutes.
You'll have everything you need to start your quest of collecting three triple-digit gains over the course of the next year.
Allow me to ask just one thing of you.
Please check in with me after you hit that first big winner.
Nothing gives me more joy (and satisfaction) than hearing stories about the profitable journeys of Lightning Trend Trader subscribers.
I look forward to hearing from you soon.
Join Now
Sincerely,


Marc Lichtenfeld
Chief Income Strategist, The Oxford Club
April 2016
Join Now